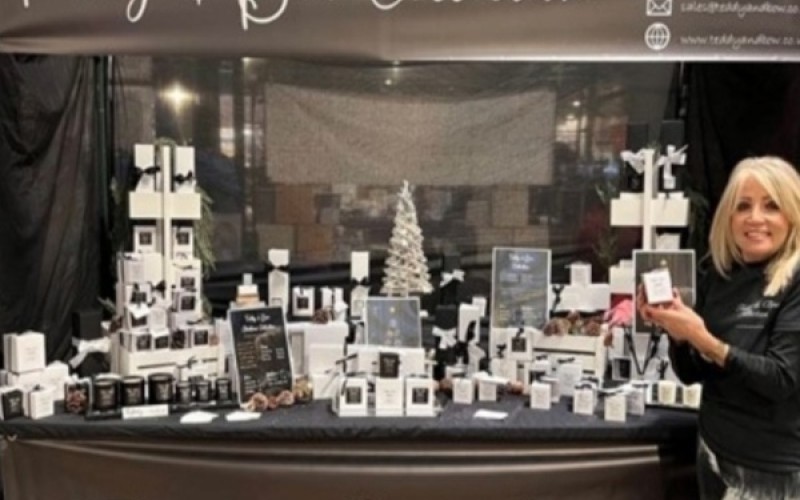 News Detail
Teddy & Bow Beginnings - Nuala McGeown - Candle maker
South Belfast entrepreneur uncovers the sweet smell of success with luxury candle range
New Northern Ireland business 'Teddy & Bow' is taking the scent world by storm. Teddy & Bow is, in the words of its founder Nuala McGeown, 'a treat for the senses'. The luxury scented candle and reed diffuser business offers a range of deluxe home fragrance and gift products, with every item hand poured and packaged in Belfast from her kitchen table.
The business stemmed from Nuala's deep desire for independence. Reflecting on her initial start up idea, Nuala said: "The business gave me something I desperately wanted - the luxury of the freedom to work from home with flexible hours that suited me, my family and my lifestyle."
Her desire to run her own schedule and feed her passion for creativity were key drivers in her entrepreneurial journey. "I was craving to unleash my closeted creative skills, and the business gives me that opportunity in abundance," she said. "I feel fulfilled as a creative, and that's an achievement!"
But what's in the name? The business is named after the family dog, Teddy, and the cat, Bow, who meander about her while she makes her high-end, handpoured candles in her family kitchen in BT9, Belfast's fashionable Queen's Quarter. 
Having, in her own words, "no idea where to start", the business owner's search led her to local enterprise agency, Ormeau Business Park via the 'Go For It' programme. She was then able to benefit from the one to one support provided by the Belfast City Council 'Kick Start' growth mentoring scheme.  
Speaking of the support and guidance she received on the business start-up and growth programmes Nuala said: "I thought if I don't take action now, I'll be sitting in the same place this time next year, and so I started my candle-making journey doing best practice workshops which, together with the one to one know how and guidance provided by Go For It and Kick Start, have put me on track to a winning business. The experienced team at Ormeau business Park have been good at signposting me according to what my growing small business needs."
She explains: "There's much more to candle-making than simply choosing your favourite scent! I have invested in my skills to make sure that I am fully clued up on the science behind each product range. Understanding how a candle burns and how the fragrance is released helps me refine my fragrance recipes and methods to produce a line of home fragrances that are second to none."
Each candle in the Teddy & Bow Collection holds a brand promise: to offer customers the optimal combination of fragrance, wax, wick and jars using innovative recipes to deliver a product that generates a perfect burn profile that exceeds expectations. 
Fourteen months from initial concept and from test trading at the award winning St George's Market to selling direct and via social media, Teddy & Bow now boasts an enviable range of loyal customers, from right across Northern Ireland and into Scotland. The company is finding that customers are advocating for the brand with their positive reviews as well as repeat purchasing, not just for themselves, for their own home and 'pick me up' needs but for all sorts of gifts too. As well as peak sales for Christmas, Valentine's Day and Mother's Day, the business has fulfilled gifting sales for birthdays, anniversaries, housewarmings and has recently noticed a rising demand for thoughtful 'cheer up' giving.
Alongside the array of luxury candles for sale in the original product line Teddy & Bow now also offer a range of high-end reed diffusers to include a brand new highly sought-after 1-litre diffuser bottle. The marketing plan for the company includes an e-commerce website, currently in development alongside a direct selling strategy to grow the customer base further.
Carving out a little slice of something for herself, by her own hands, mum of five Nuala is adamant that the business will develop at a pace, dictated by what is happening in her busy world. What started as a lockdown challenge has turned into something much more rewarding for the south Belfast entrepreneur.
And Nuala prides herself on continuously improving the Teddy & Bow product range to ensure that every customer can find a particular scent that speaks to them personally. She explains: "I am constantly reviewing the products to create the candles and diffusers that you want for yourself, to burn at home, at work, or would be happy to give as a special present. I want my products to look as good as they smell and to command a position in homes - in living rooms, in bathrooms, in offices and as a welcome feature in reception areas. Fragrance preferences can be very personal, and a scent can nudge memories and mood, so it's rewarding to give people the opportunity to revive their homes and places of work with scents that can inspire."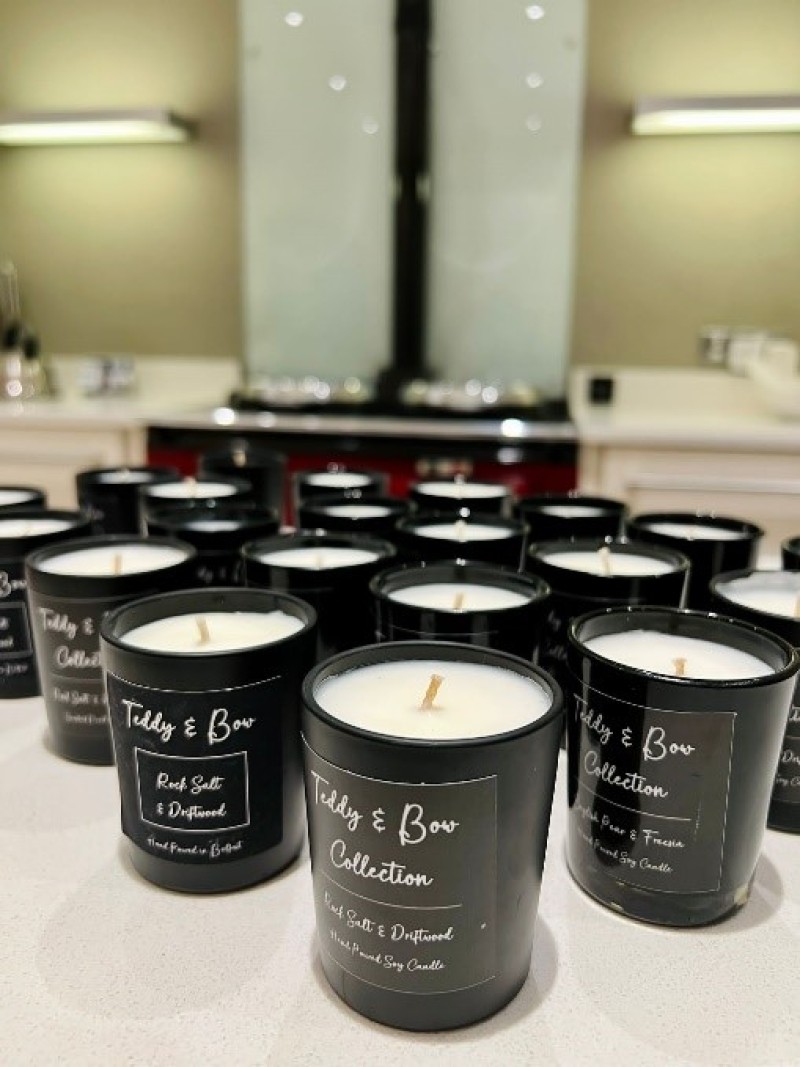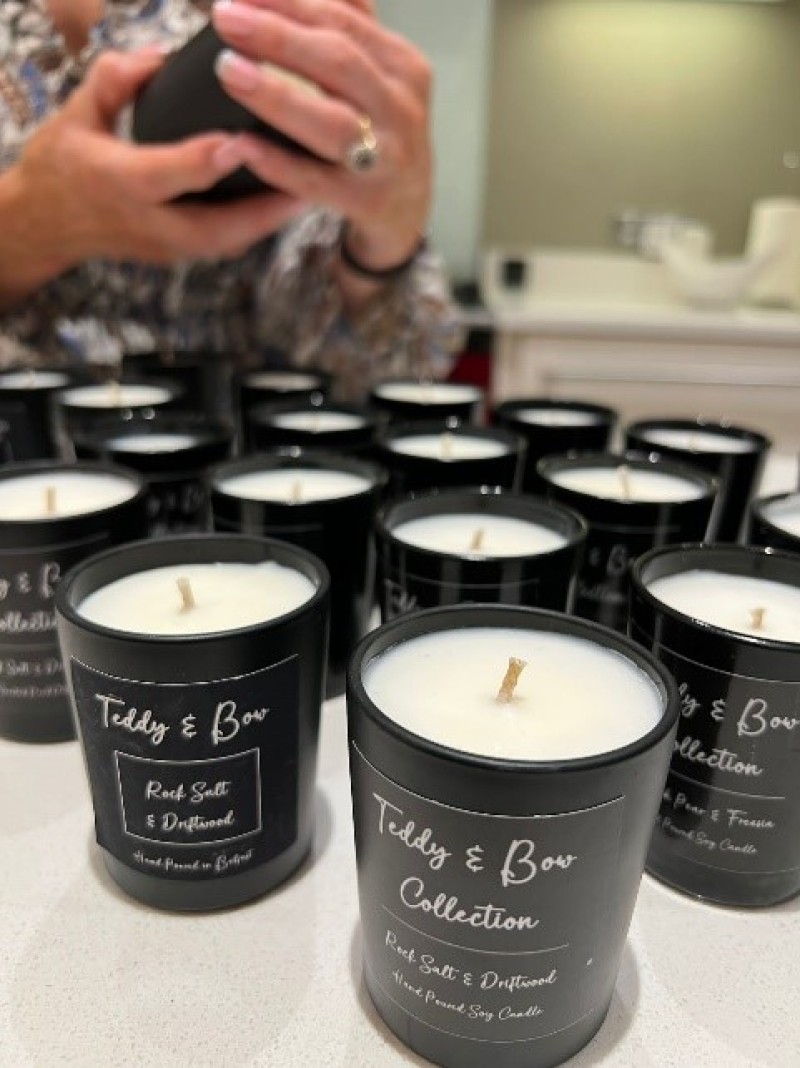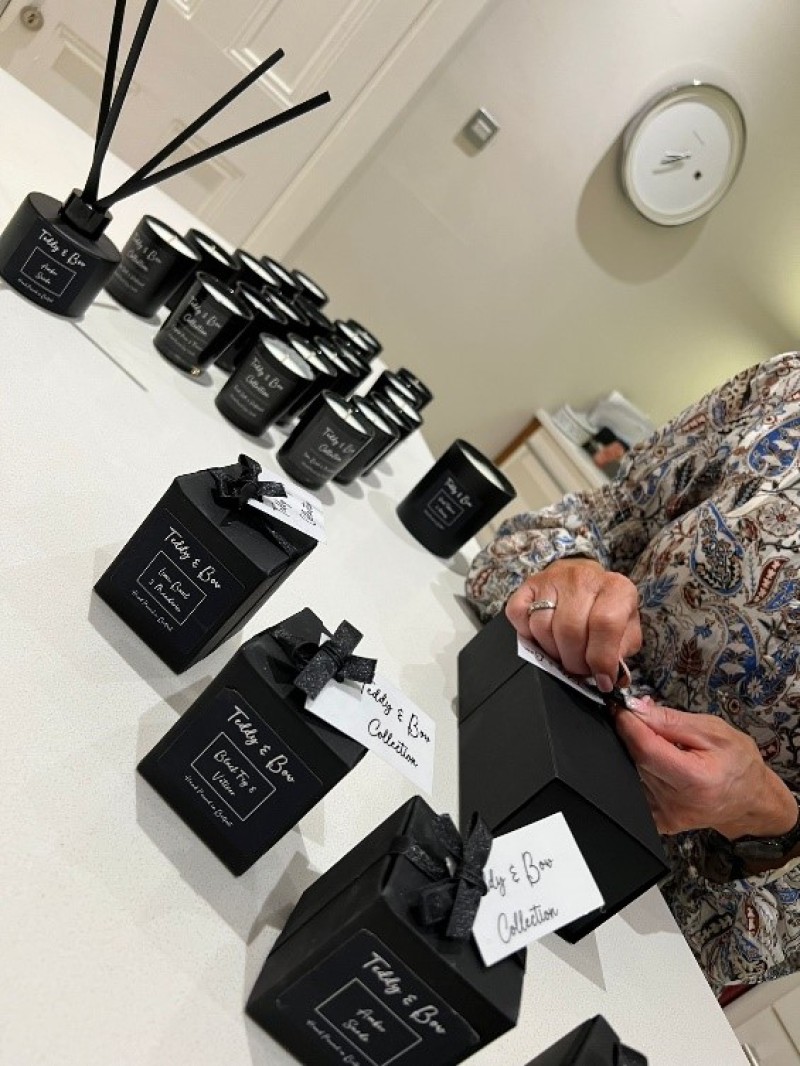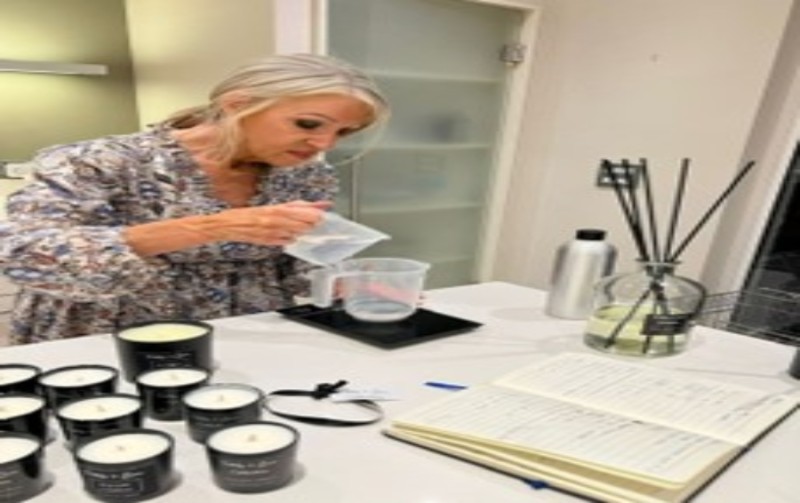 To find out more about Teddy & Bow and their vast array of products, check them out on Facebook: Teddy & Bow Collection 
Instagram: teddyandbow_
Email: Sales@teddyandbow.co.uk
Upcoming Website: www.teddyandbow.co.uk