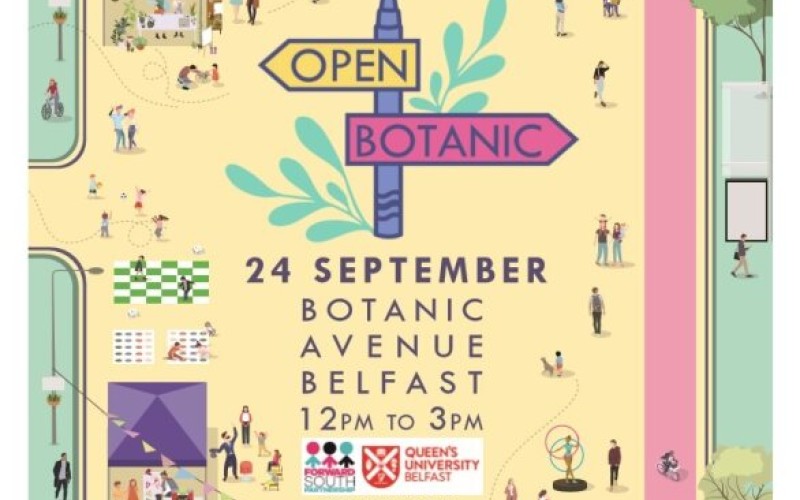 News Detail
Open Botanic Festival
Open Botanic is a unique community-driven festival that brings people together by re-imagining Botanic Avenue in Belfast as a better place to work, live and play in a pedestrianised, car-free environment. We would love it if you came along on Sunday 24th September from 12pm to 3pm to experience it for yourself!
There will be lots going on throughout the course of the day for people of all ages, including a pop-up cycle lane and parklet, music, arts & crafts, cultural activities, dance, health and wellbeing fair, street performers and much much more!
In the lead up to the day, six community organisations have been taking part in a series of workshops in collaboration with the Architecture and Planning Department at Queen's University Belfast to talk about how they would like Botanic Avenue to evolve and they have each designed community kiosks with Lawrence Street Workshops for the day that will showcase the culture and heritage of the area.
We're also delighted to have the involvement of many local businesses who will be putting on entertainment and food offerings throughout the day as well.
Open Botanic is more than just a great community festival. It's a chance to see and experience this diverse, busy thoroughfare in a totally different way, encouraging families to enjoy what this rich, vibrant place has to offer and starting conversations about changing how we use space in the city and looking at how we can collaboratively regenerate and green Shaftesbury Square and the surrounding communities. We invite you to take this opportunity to come down on the day with your family and friends, visit the community kiosks and enjoy the animation of Botanic Avenue!