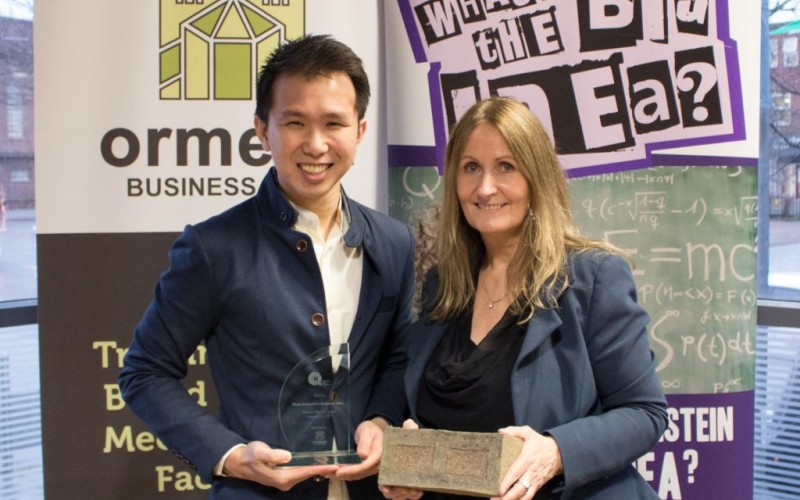 News Detail
Queen's University Students with Big Ideas win Big Prizes
Nine Queen's University Students have been awarded 11 business awards and a combined prize pot of £2,800, courtesy of the Queen's Students' Union 'What's the Big Idea?' Competition.
The competition, run by Enterprise SU is open to all students at Queen's who have exciting, new business ideas and encourages students to be more entrepreneurial during their time at university. The competition is sponsored by PWC, Ormeau Business Park, Danske Bank & Queen's Graduate School.
This year, saw over 80 applications whittled down to a shortlist of the 24 best ideas, by a panel of judges made up of representatives from the competition sponsors. The nine winners were announced at a prize ceremony held in the Students' Union.  At the event, six entrepreneurial students took part in a 2 minute elevator pitch to win the top prizes 'Best Overall Business Idea' and 'Most Innovative Business Idea'.
With some amazing entries, it is clear that Queen's students are becoming increasingly entrepreneurial. Looking ahead, the winners will hope to build on their success and attract further interest to make their ideas a reality.
The 'Best Overall Business Idea' Award, sponsored by Ormeau Business Park, along with £500 was awarded to a group of students for their creative product 'AirWear', an inflatable helmet to increase portability and ease of storage of cycling helmets. A member of the group, Ben Lindsay, had this to say on winning the award,
"getting involved with 'What's the Big Idea?' gave us an opportunity to look at our idea from a business prospective, …[and] we have realised the true money making potential of our concept. It has also opened us up to further competitions…"
The 'Most Innovative Idea' Award, also sponsored by Ormeau Business Park, along with £500 was presented to Choon Yvin Tham for his innovative product, 'EcoBrix' an ecological brick that promotes building green.  Choon said "it's amazing to be given the opportunity to share an idea on the stage of 'What's the big idea?' that promotes creativity and innovativeness. It's the best launching pad for EcoBrix…'
"the ideas put forward by the students were both innovative and of extremely high quality. Every person that pitched was good at telling their own story and explained the importance of their product and how they were solving a real world problem…'

Ailis Mone Technology Consultant at PWC
"Danske Bank were delighted to sponsor the 'What's The Big Idea?' Competition. We were very impressed with both the volume and quality of ideas submitted, highlighting the extent of innovation, creativity and commercial acumen demonstrated by QUB students."

Ian Brankin, Senior Corporate Strategy Manager at Danske
"participating as a guest judge for 'What's the Big Idea?' competition is something I really look forward to each year. I would encourage all students with an idea to participate as the competition provides them with a step in the right direction to realising the potential of their business idea."

Joanne Graham, Postgraduate Community & Enterprise Officer at Queen's Graduate School
Catriona Henry, Enterprise Officer at Queen's Students' Union explained that 'it's so inspiring to see so many creative and innovative ideas coming from Queen's students. The entrepreneurial spark in QUB students is definitely increasing, and the 'What's The Big Idea?' competition is a great platform to launch their business ideas, giving students the confidence and ability to take their idea forward.'
For more information please contact Catriona Henry at Enterprise SU on 028 9097 1286.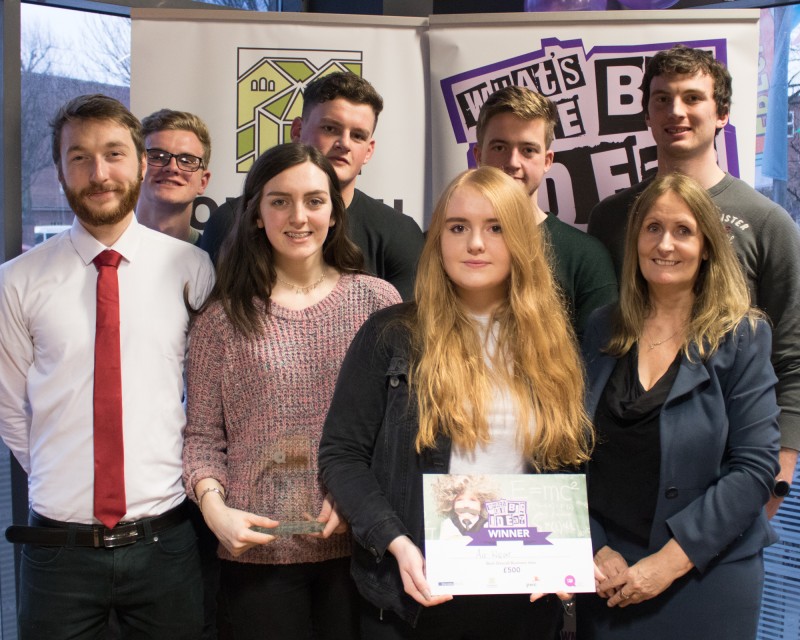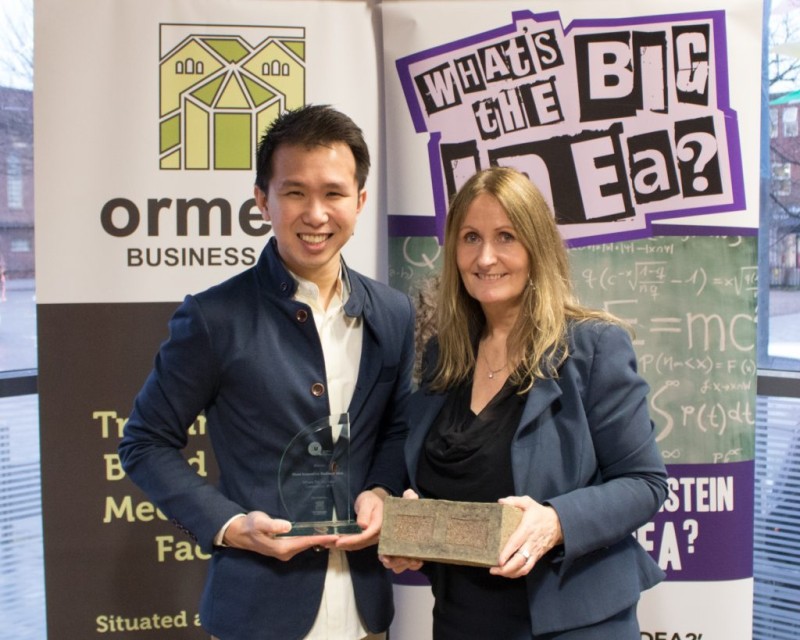 A total of 11 awards were presented:
Best Green Business Idea – Rory Sharkey and team, Receiptable

Best Idea for a Social Enterprise – Nausheen Tabasum Khan, Over to you

Best Idea from the Faculty of Arts, Humanities & Social Sciences – James Carson, Hurtlocker.

Best Idea from the Faculty of Engineering & Physical Sciences – Sean Hackett, wearable sea beacon.

Best Idea from the Faculty of Medicine, Health & Life Sciences – Adam Smyth and team, Opti

Best Use of Technology in a Business Idea, sponsored by PWC – Pearse McErlean & team, timing belt monitoring system.

Best Idea for the Global Marketplace – Ben Lindsay & Team, AirWear

Best Idea from a Postgraduate Student, sponsored by the Graduate School – Choon Yvin Tham, EcoBricx

Best Idea from an International Student – Konstantin Macher, City Safe

Most Innovative Business Idea, sponsored by Ormeau Business Park – Ben Lindsay & Team, AirWear

Best Overall Business Idea, sponsored by Ormeau Business Park – EcoBrix, Choon Yvin Tham