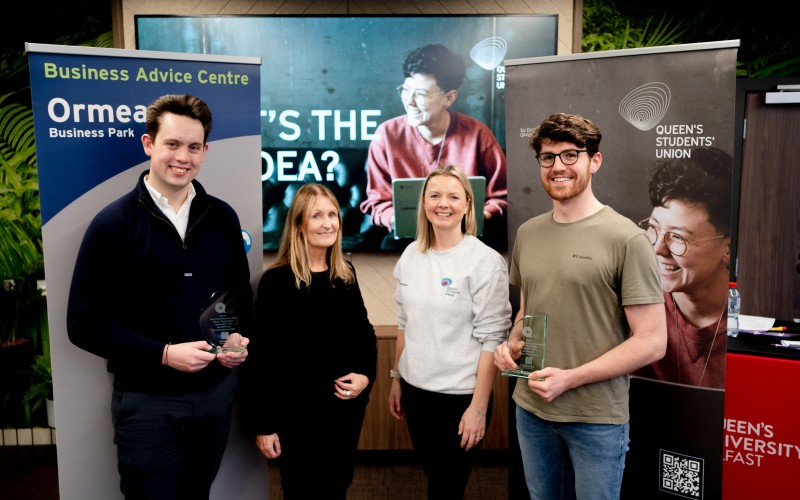 News Detail
Ormeau sponsors QUB 'What's the Big idea' competition
What's the Big Idea 2022
On Wednesday 7th of December, QUB Enterprise SU held the Awards Ceremony of their annual 'What's the Big Idea?' competition. With £3,050 worth of funding to be won across 11 categories including 'Best Green Business Idea' and 'Best Idea for a Social Enterprise', the competition drew in over 90 applications from across the university.
Sponsored by Ormeau Business Park, SU Enterprise hosted a festive afternoon in celebration of the finalists, welcoming judges, university staff, and business professionals from across Belfast.  Guests heard inspirational talks from QUB alumni Peter Gileece and CEO of Vikela Armour, and Lucie Munier, who is the founder and CEO of Insurin.
Category winners included:
·         Best Green Business idea winner – Liam Campbell
·         Best Idea for Global Marketplace winner – Matthew Kissick
·         Best Idea from an International Student winner – Lokeshkumar Myilsamy
·         Best Idea from the Faculty of Arts, Humanities & Social Sciences winner – Hannah Wasson
·         Best Idea from the Faculty of Engineering & Physical Sciences winner – Samuel Freeman
·         Best Idea from the Faculty of Medicine, Health & Life Sciences winner – Adanna Ewuzie
·         Best Idea from a Postgraduate Student winner – Isaac Gibson
·         Best Idea for a Social Enterprise winner – Dearbhla Shine
·         Best Use of Technology winner – Gareth Bryans
Mechanical Engineering student Liam Campbell took home the prize for 'Most Innovative Idea' with his idea for a vertical, cylindrical hydro-turbine that utilises the phenomenon of resonance to generate hydropower energy without destroying ecosystems in the process. Mechanical Engineering student Josh Marsden won 'Best Overall Idea', with his idea called 'SeaMe' – an adjustable distress alert bracelet to connect sea users and emergency services, with the intention of saving lives by reducing response times. 
Programme Organizer, Kat Maguire, said "The What's the Big Idea? Competition is a great way for students to 'test the water' with their idea and assess viability.  The experience and confidence they gain from the programme provides them with the perfect opportunity to take their idea further and hopefully develop it into a viable start-up.'