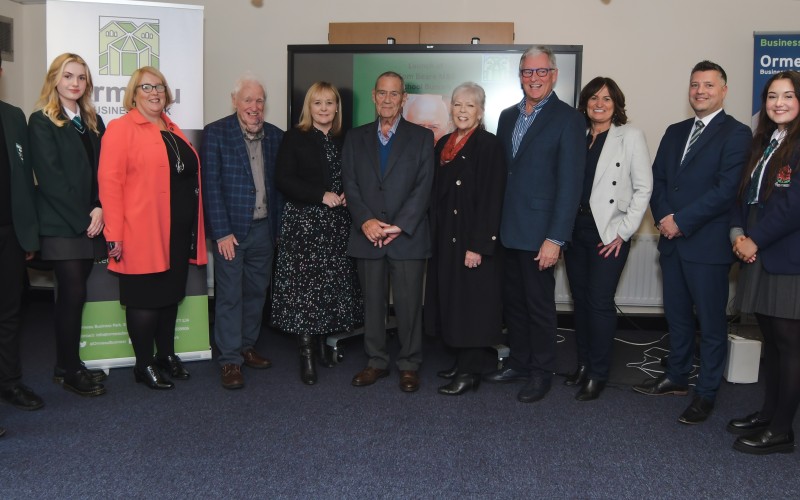 News Detail
Ormeau Business Park launches the Tom Beare Schools Bursary
Ormeau Business Park recently launched a school's bursary in partnership with Wellington College and St Joseph's College in South Belfast. This scheme shall support young people transferring to tertiary education or vocational training offering three bursaries to each school, the three-year commitment will total c £20k.
The bursaries will be awarded in memory Ormeau Business Park's late Chairman Mr Tom Beare MBE founder of Cardiac Services, which became the largest supplier and maintenance company to the Health Service in NI, ROI, and parts of mainland UK.
Speaking at the launch the Minister for Education Michelle McIlveen praised all concerned stating that she was encouraged to see this collaboration between Ormeau Business Park, St Joseph's and Wellington College which offers an opportunity for those pupils transferring to higher education and the world of work.
The Chairman Mr Tom Scott stated 'Ormeau Business Park look forward to working with St Joseph's Secondary School and Wellington College to provide 20k financial support through the Tom Beare Bursary over the next three years supporting pupils on their career path towards higher education or vocational training.
Simon Lemon Vice Principal of Wellington College welcomed this opportunity adding 'Students from Wellington College Belfast were delighted to meet the Education Minister, Michelle McIlveen to launch the Tom Beare Bursary sponsored by Ormeau Business Park.  The Bursary will financially support students with aspirations in studying in pathways in areas highlighted in the recent 10X Economy strategy.
The Tom Beare Schools Bursary will help students who otherwise may face barriers to applying and attending third level education.