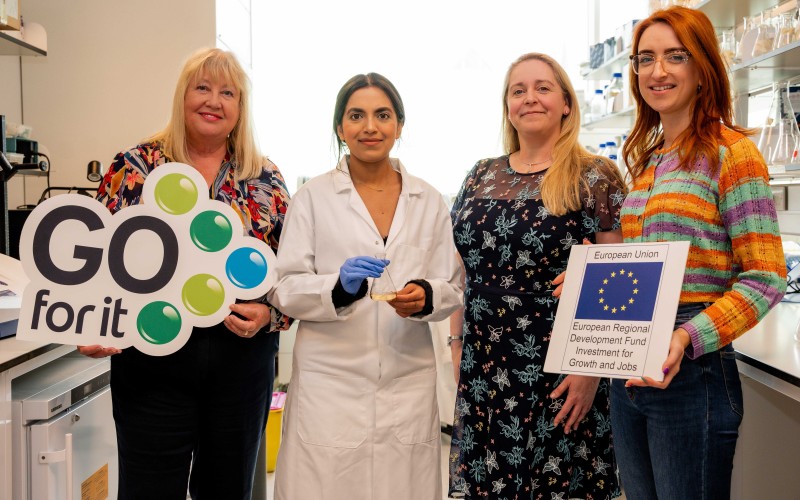 News Detail
Gran Lab
Pragya Sharma has drawn on her passion for medicine and biochemistry to launch her business venture Gran Lab, thanks to the help of the Go For It programme, in association with Belfast City Council.  
This project is part funded by Invest Northern Ireland and the European Regional Development Fund under the Investment for Growth and Jobs Northern Ireland (2014-2020) programme and the 11 councils.  
Inspired by her grandmother who suffered from psoriasis, Pragya recognised a gap in the market for potent steroid-free treatments which would revolutionise the lives of those suffering from skin conditions such as eczema and psoriasis. 
Gran Lab specialises in making steroid-free, colour-inclusive formulations to treat the symptoms of psoriasis and eczema.
Pragya explains: "When it comes to Gran Lab, I have real-life experience, through my grandmother and hundreds of others suffering with serious skin conditions, and it's my goal to help as many people as possible with these products, so they can enjoy the same health benefits as my Nani, who has been symptom-free for four years now.  
"I'm so proud of how far I've come since starting Gran Lab and one of my proudest achievements has been my successful clinical trials confirming that this steroid-free formulation can treat symptoms of psoriasis and eczema. It's given me a real confidence boost for my business venture." 
Having recently submitted her PhD thesis in biochemistry, alongside running Gran Lab, Pragya was also named as a 2023 30 Under 30 entrepreneur in Northern Ireland.   
Pragya launched Gran Lab after taking part in the Go For It programme through Belfast City Council.  
The Go For It programme is delivered free of charge by a team of experienced business mentors through Northern Ireland's wide network of enterprise agencies. It provides expert advice and support to develop a business plan that helps entrepreneurs turn their ideas into commercial businesses. 
"The Go For It programme was such a fantastic source of support for me. Together with my business advisor, we worked on a business plan and it has been the most valuable aspect of the programme.
"The business plan has acted like a set of steppingstones for my venture. It really made me think about all the different components required to effectively run a business. I thought about who my competitors are, what parameters I should be comparing my product to, what finances I need and so much more. It really opened my mind to what the business is and what it entails to make it a success."
Councillor Clíodhna Nic Bhranair, Chair of Belfast City Council Growth and Regeneration Committee said: "I'm delighted to see first-hand how the Go For It programme has given Pragya the support and guidance she needed to help get her business venture off the ground.
"Pragya's passion and motivation to make Gran Lab a success is clear, and combined with her sheer love for the product she's developed, she's primed for a really successful entrepreneurial journey.
"Belfast is a fantastic city to do business in, with a great range of help and support available. I'd encourage anyone thinking about starting their own business to take the leap and contact the Go For It team today."
Melanie Fitzpatrick, Business Advisor at Ormeau Business Park said: "Pragya had a clear vision for Gran Lab and together, we created a comprehensive business plan outlining the steps to make her vision a reality.
"We set achievable goals and milestones for the future, and I offered advice in areas such as financial planning, sales and marketing strategies and legal requirements - all essential aspects in establishing a successful business.
"I wish Pragya all the very best for the future, and I look forward to witnessing the success of Gran Lab!"