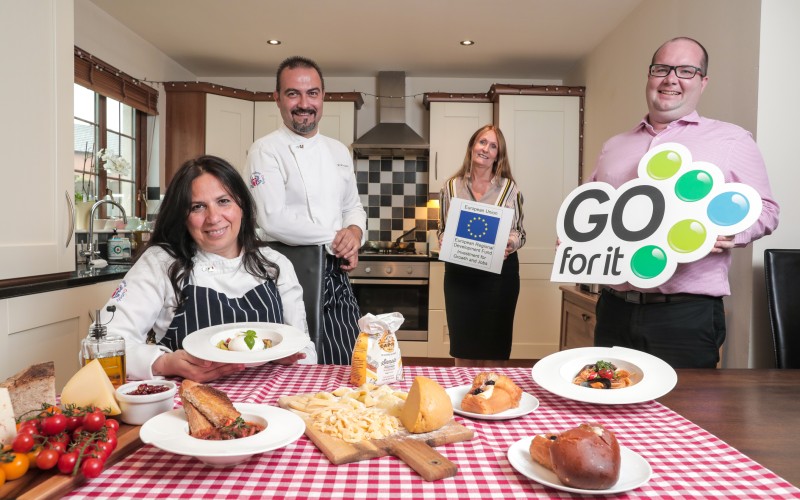 News Detail
Go For It client Delizia
Husband and wife duo bring a taste of la dolce vita to Belfast
Two locally based entrepreneurs have used their expert cooking skills to pursue their own joint business venture in Belfast - Delizia Italian Food – thanks to support from the Go For It Programme, in association with Belfast City Council.
The Go For It Programme is part funded by Invest Northern Ireland and the European Regional Development Fund under the Investment for Growth and Jobs Northern Ireland (2014-2020) programme.
Filomena D'Uva and her husband Nicola Attianese are talented Italian chefs who have worked in Michelin star restaurants in Italy, cooked in Washington DC and San Francisco and catered for international diplomats.
The couple and two of their four daughters came from Pagani near Salerno in Italy, to Northern Ireland, at the end of 2018, to work as chef and sous chef in a Belfast restaurant. After seven months, the pair decided that they loved life in Northern Ireland and wanted to start their own business. 
Delizia Italian Food is an Italian food brand, with produce sold online through their own website, celebrating pure Italian produce. There are also plans to expand the business to include an Italian cookery school, recipe book and Italian cooking utensils and kitchen wear.
Filomena D'Uva of Delizia Italian Food said: "We have travelled the world cooking in some of the worlds best restaurants.  When we came to Northern Ireland, we wanted to continue cooking authentic Italian food, but there was no restaurant which was cooking this food.  We decided to stay and set up our own business.
"We were the culinary ambassadors for the Chamber of Commerce back in Salerno and from that we built up some amazing contacts with some of the provinces best food producers.  Italian cooking is so much more than pizza and spaghetti carbonara.  We're so proud of where we are from and our amazing food that we want to share it in our new home of Belfast. 
Filomena continues, "When we decided that we wanted to start our own business, we didn't know where to start.  We didn't know anyone and didn't know if or where any support was available. I saw a Facebook post for the Go For It programme and filled in the form online.  It was really easy and my business advisor got in touch with me a couple of hours later.
"The support we received from the Go For It programme was amazing, they were so helpful, especially since we didn't know anything about running a business. We are chefs, food is our language so the business support we received was vital.  Since we were in a new city and didn't know anyone, the support was a real lifeline. 
"Our business advisor was able to signpost us to free workshops, courses, webinars, and other services including accounting, marketing and web developers to name a few, helping us to set up our website www.deliziaitalianfood.com.  We felt so supported and like we were part of something- never for a second did we feel like we were going it alone.  Whatever we needed, our business advisor was there to provide advice and guidance. 
"We completed financial projections, sales forecasts and looked into legal aspects of the business including licensing.  It helped us to see what we needed to put in and what was possible, financially, and operationally.  We completed a comprehensive competitor analysis also which assisted with pricing, menu planning and understanding what was currently available in Belfast.  We discovered that, whilst there were established cookery schools in Belfast, none offered a truly authentic Italian experience.
"In Italy, our grandmothers are at the heart of the family, and their cooking techniques and recipes are passed down through generations, it is this traditional and authentic feel that really sets us apart.
The Go For It programme is delivered free of charge by a team of experienced business mentors through Northern Ireland's wide network of enterprise agencies. It provides expert advice and help with developing a robust business plan to help turn ideas into a commercial enterprise.
Councillor David Brooks, Chair of Belfast City Council's City Growth and Regeneration Committee said: "We've made a commitment in our Belfast Agenda to supporting entrepreneurs in the city to help grow the economy. Go For It is providing accessible, free and specialist business support - giving people the confidence, contacts and the knowledge they need to start trading. I wish Filomena and Nicola every continued success with growing the Delizia Italian Food brand and encourage anyone thinking about starting their own business to go for it and get in touch!"
Patricia McNeill, Manager at Ormeau Business Park for Belfast City Council, said; "We were delighted to be able to support Delizia Italian Food in the initial stages of their business start-up.  They have such a passion for Italian cuisine and have a newfound love for their new home in Belfast.  It was a privilege to be able to support Filomena and Nicola as they embarked on their journey.
"Through the completion of their business plan, we were able to finalise their business proposition and really delve deeper into what made them different than other local Italian restaurants.  Their food really is so delicious- I can't wait for more people to try their cooking as their business grows. 
If you have a business idea you'd like to develop or if you are thinking about starting a business contact the Go For It Programme on 0800 027 0639 or visit: www.goforitni.com or call Ormeeau Business Park on 90 339906